Additional Creatures 2: Wild Ark для ARK: Survival Evolved
This mod is sponsored by G-Portal! Click the link below and get 5% on an ark server order! These guys are AMAZING server hosts for Ark, Minecraft, Dark and Light, and more! Check them out and see how they work!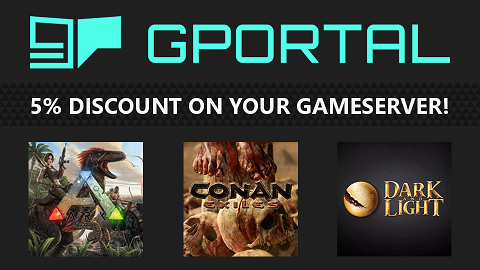 MOD ID: 1373744537
This is the spiritual successor to my Additional Creatures mod. Additional Creatures was my first mod and it truly means the world to me, as it taught me many things about modding and helped me become the modder I am today. However there were both people who were not happy with the quality of the ported models, and creatures I wanted in Ark that I could never find the models for.
That's what this mod answers: new, unique creatures edited from existing ark models!
NOTE:
This mod is indeed financially based. In a sense these models are commissions, and at this moment I am only a college student still looking for a job. If you'd like to donate via patreon or Paypal for creatures, links are below. Yes I will consider "sponsored" creatures, with stipulations. See the appropriate discussion topic for the rules on sponsored creatures, as well as the confirmed species list to see what's coming.
V.49.0
-NEW CREATURE: Dilophovenatrix!
-NEW CREATURE: Aberrant Carcharodontosaurus!
-Carchar left click bite uses a less full-body animation for biting.
-adjusted Carchar look offset socket
-Added compatability for Ark Additions!
-Shantungosaurus AoE now buffs Acrocanthosaurus and Brachiosaurus
-Acrocanthosaurus and Brachiosaurus now effected by Smok damage multipliers
-Smok AoE buff now works on Acrocanthosaurus
-Current creatures:
-Camarasaurus!
-Carcharodontosaurus!
-Shantungosaurus!
-Ichthyovenator!
-Fasolasuchus!
-Segnosaurus!
-Gigantspinosaurus!
-Amphicyon!
-Rajasaurus!
-Shunosaurus!
-Austroraptor!
-Banguela!
-NARWHAL!
-Herrerasaurus!
-Australovenator!
-Dinocrocuta!
-Sauropelta!
-Oxalaia!
-Irritator!
-Smok saurovindico!
-Belluasaurus!
-Tarbosaurus!
-Purussaurus!
-Anthracosaurus!
-Brontoscorpipo!
-Brachauchenius!
-Metriacanthosaurus!
-Harpagornis!
-Becklespinax!
-Hatzegopteryx!
-Red Panda!
-Pentaceratops!
-Deinocheirus!
-Eotriceratops!
-Chungkingosaurus!
-Anteosaurus!
-Rhizodus!
-Binturong!
-Inostrancevia!
-Balaur!
-Gigantophis!
-Hesperosaurus!
-Gigantoraptor!
-Daspletosaurus!
-Qianzhousaurus!
-Elephantosaurus!
-Arizonasaurus!
-Styracosaurus!
-Stygimoloch!
///////MOD PAYPAL////
https://www.paypal.me/Shadlos
/////////////MOD PATREON////////////
https://www.patreon.com/shadlos
//////Support me on Ko-Fi!/////
https://ko-fi.com/N4N7GPNK
///////MY OFFICIAL MODDING DISCORD///
https://discord.gg/cYq722e
/////OFFICIAL ADDITIONAL CREATURES WIKI////
https://additional-creatures.wikia.com/wiki/Additional_Creatures_Wiki
///SPECIAL THANKS///
-Garuga123
Mod mentor, true great friend.
-Milokamilo
Collaboration work
-Scanova the Carnotaurus
Mod community manager and official biologist
-SpaceTyrant93
Mod Official Artist
-Fresonis, everynightxRIOT, Syntac, RePuG, ThatGermanGuy
Epic youtube supporters